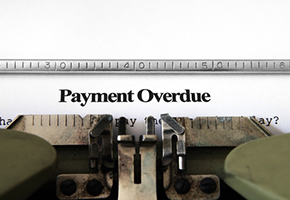 Weird, isn't it? You did a great job, now the customer isn't paying and yet you DREAD  having to go "hat in hand" to ask for your money. (I hated "receivables calls" too! Strange since legally it was MY money!)
The best way to avoid ugly non-paying situations? Deliver Value Added Service since grateful Cheerleaders are delighted to pay!  But if not (and especially if you got bad vibes during the job) stop living in denial/hope. Instead, call a week before your bill is due and then every week thereafter plus…
Never end your "receivables conversation" before setting a date for their "next action" AND the consequences for their non-action!
Deadbeat clients count on wearing you down with their inertia so you just give up! So always define the "what and when" for your customer's next action and "what and when" you will do next before hanging up. (Then follow through by programming a reminder into your phone.)
For example, "So Mrs. Jones, you will put  a check for $384.20 in the mail to me on or before next Thursday, the 19th. I'll email you on the 15th with a reminder but if I don't have the check in hand by Tuesday, the 24th, I will turn your account over to collections. Are we agreed?"
Residential HINT: Simple. Except for long time accounts quit billing your customers!  When the homeowner says, "Leave me a bill" you reply, "Sorry, Mrs. Jones. We don't bill residential accounts. But you can either send a check in advance or I can take a credit card number right now." Honestly? If neither of these work for your customer you don't need the headache!
Commercial HINT: Large contract commercial accounts will have a routine payment cycle. Call immediately if they fall off of it. But on one time jobs try asking for a check on job completion. If they say no then allow no more than "net 10" and call/ go see them on day 8! Or offer flexible payment options.
Restoration HINT: Be very clear up front with the Insured who is responsible for payment. The Insured has much more influence with the agent or adjuster than you do so let them do the "heavy lifting".
NOTE: On tenant occupied dwellings get your authorization up front in writing. (Even if it is just a late night text message!)
Steve
Every week we share a timely, practical tip like the above. So if you're not already signed up for these FREE weekly QuickTIPS, do so now.