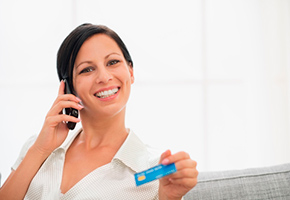 "So close and yet so far!" And you still can't get your prospect to say "Yes" to your proposal!
So frustrating because your customer wants to buy and you want to sell! And yet too often the old "cash flow bugaboo" rears its ugly head. So for the "right" clients…
Offer credit cards and other flexible payment options to "tie up" an account.
Commercial HINT: A surprising number of small businesses have company credit cards. So let them use it to pay their bill! Or here's another idea: Instead of automatically doing net 30 billing first offer to let the business pay 1/2 upon completion and the rest 30 days later. Then if you hit resistance drop down to full payment at net 30 OR if you feel good about the company you can even go half net 30 and the other half at 60 days. Now you are a "good guy"!
NOTE: Businesses hate big "surprise" bills and love regular, routine payments they can work into their budget planning. And you will love these same "regular, routine payments" because they even out your cash flow! A match made in heaven! Here is how you do it…
Restoration HINT: Even Insureds in fancy homes may be living very close to the edge financially. An unexpected expense can cause their financial "house of cards" to come crashing down. (And what is more unexpected than a sudden water or fire loss?) So allow insureds to pay their deductible up front with a credit card.
Residential HINT: Big discretionary expenses like carpet cleaning can be the first household expenses to get "postponed". And yet homeowners usually have no problem with the "small stuff". So stay under your residential customer's radar with a small monthly "Stay Beautiful" payment that slides through with an automatic withdrawal from their (you guessed it!) credit card! (Or their checking account.) CLICK HERE for a free guide on "How To Set Up Your Stay Beautiful Program."
Add-on sales IDEA: Always give the homeowner one last chance to make an "impulse buy" when you "reapply" their ScotchGard finish by… putting it on their credit card! And next week I'll share how to sell more protector over the phone!
Steve
Every week we share a timely, practical tip like the above. So if you're not already signed up for these FREE weekly QuickTIPS, do so now.