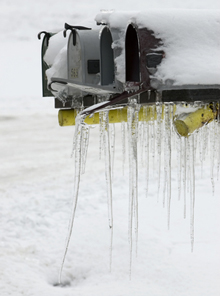 CNN says over 140 million Americans are enduring sub-zero temperatures right now. So besides not licking flagpoles what's this mean for you?
MONEY! As in, "Frozen pipes that sneakily thaw and flood insured's homes!" (OK. I occasionally had a brief pang of conscience about being such a "vulture"! But then I remembered Mother Nature was the culprit! I was a "good guy" helping people out in their time of need!)
And there is no sin in "cleaning up" financially while you restore people's lives! So here's a few hints on being safe, efficient AND very profitable with this bumper crop of new water losses!
Above all else, build your actions around the messed-up, traumatized emotions of a flooded-out customer! (Come on! You wouldn't deal well with 3″ of  water in your living room either!) Insureds coping with a water loss desperately need Emotional Reassurance. So you (and your employees) must deliver the…
"Four C's" of Restoration : 1) Calm, 2) Competent, 3) Caring and 4) In Control!
So in a Caring manner you must Calmly and Competently be in Control of the water loss starting with the Insured's first panicked phone call! So to structure your conversation download our free SFS Water Damage Customer Interview Form. Now your phone personnel and "first responder" technicians will have an "information template" that brings order out of chaos on those first few frazzled moments on the loss. A few more reminders…
1. Focus on creating positive Restoration Moment of Truth on the loss.
2. Verify WHO is going to pay for your work? And is an email (or text) authorization legal?
3. Since you can't do 'em all look for the "sweet spot" losses. (Most profitable/least problematical!)
4. Document your progress with "before and after" photos and data readings.
5. And don't forget to thank the Insured. (And the agent or "partner adjuster" who referred you!)
Get tons more ideas in my free Special Report: Recession Proofing Your Restoration Business
Residential/Commercial HINT: Don't want to mess with 24-7 water losses? No worries. Just set up a Strategic Partnership with a quality local restoration company. Do the initial extraction on the losses you want (LOTS more money than cleaning!) and then turn them over to your "restoration partner". Then on all of your referred losses collect a nice Finder's Fee! (Be sure to let all your clients know about your new W/D service.)
And carry these winter "survival tools"!
Steve