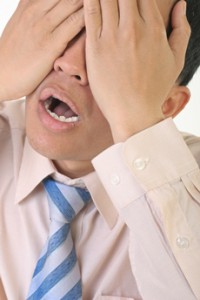 Hey Steve,
I think your SFS programs are working too well right now in my company! We are absolutely swamped and I thank you… I think!
You see, I just had my best employee who's been with us the longest give me his 2 weeks notice. (Sigh!) I've known it was going to be coming for a while now. He is a certified electrician and his own business has been growing on the side quite a bit. (At least partly because he's been learning some tips from my implementing SFS procedures in my business so he needs to step into it full time.)
I hired another employee who is being trained right now and he'll be ready to take the place of the guy who's leaving by the time the two weeks is up. But Steve, I really feel I need to hire another employee and soon.
Fortunately I do have a person in mind. I don't know this guy personally, but I know his family, and several people I trust say he's a fabulous worker, excellent people person, etc. I think he would be great for the job, but not having even met him so I'm a little nervous.
Plus this prospective employee works full time right now. (I've heard that the job he's at is very difficult and pays very poorly and that he's been wanting a change for quite a while now.) In fact, the new employee I just hired is this guy's friend and they used to work together.
So Steve, how do I go forward with this guy? I don't want to just offer him the job without interviewing him and then trying to figure out if it will be a good fit! How can I hire someone who doesn't know I exist and hasn't applied to work for me?
Any advice from the Sage One would be greatly appreciated! 🙂
Beating the Bushes in Baltimore
Good to hear from you, Beating. And I'm glad you are "too busy". (It beats the alternative!) BUT remember that "desperation hiring" never works out well and that is what you can edge in to when you put ALL your hopes on just ONE person.
So how to approach this prospective employee? Why not get to talking with your "new employee you just hired who is this guy's friend, and they used to work together"? Work the conversation around to "Do you know anyone else who might be a good co-worker with you?" and see if he brings this candidate's name up. When he does snap your fingers and reply, "That's a great idea! Would you mind reaching out to him right away, describe the job and ask him to call me ASAP on my personal cell number? I'll need to hear from him yes or no if he is interested by…"
So now your candidate will approach you IF he wants to apply. If he doesn't, it is time to move on and FAST. This situation points up the need to be what I call "to be always hiring". In other words, I want you to always be searching for likely candidates as you work in the market place. Here's how to do it…
When you find a waiter, gas station attendant, retail sales person or any other worker that gives you great service explain you have been impressed by their service. Then say you just might have a career opportunity for them. Hand them your card and write your personal cell # on the back as you talk to them. (This is important.) Say "Give me a call if you are interested."
When your candidate calls explain the job and have them fill out an application. (Which may in the beginning just be for part time work that is built around their full time job schedule- I LOVE part time employees in the beginning since I can test them out before offering a full time job.)
You pre-screen these folks and keep them "in the line-up" waiting for a call from you. (I would send a weekly "blind cc" group email out to all of your candidates with some company news and explaining that you still want to hire them.)
So now when a current employee gives you their notice you have an entire stable of eager PRE-SCREENED prospects JUST WAITING FOR YOUR CALL. (For this "waiting strategy" to work you must offer better pay/benefits and work environment than your candidate's current job.) This "new hires in waiting" system is SO much better than desperation hiring!
You know, Beating, I am delighted that you are busy. But remember as a manager your job role may be shifting from "getting the work" to getting the work done" by building for the future in hiring the very best quality people. This is not easy. But hey, Papa Nick Paolella at Jon-Don did it and so can you!
NOTE: Remember that you must use different techniques to hire, train and motivate the "younger generation" entering the workplace. HERE is a Special Report on how to work with "millennials".
Think carefully on what I'm sharing with you and best wishes for your success. Let me know how you are doing!
Steve