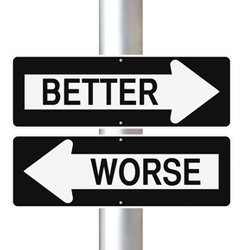 It happens. No matter how good you are a few clients will STILL complain. (And you can only HOPE they call you instead of nailing you on the Internet for 1,000's of prospective customers to read!)
NOTE: In my last QuickTIP we reviewed why you should not send the same "offending tech" back to "re-do their boo-boo". (Wow- that even rhymes!)
Here are two more tips to turn your complaining customer into a delighted Cheerleader client!
Rule #1: Get on it FAST! The trap here? We all tend to put off "unpleasant confrontations!" Don't do it! If possible, respond (and fix) the complaint the same day. Speed is everything here! AND…
Rule #2: Virtually INSIST that your customer be there to watch you work on the "offending area(s)." If they are not there watching you clients will immediately think, "Did they actually TRY to fix it? Is it better OR did they make it worse? Heck, did they even SHOW UP? " (Don't ask me how I learned this!)
For your client be present for your "concern resolution session" will require flexibility on your part. (I would re-do complaints at night or on weekends if needed.) But here is the key…
If your customer is on-site watching you work then you can a) explain the different steps you are taking to improve the problem, b) they will see how hard you are working and c) how serious you are about resolving their concern. Eventually they will say, "It's OK. It does look better. I really appreciate you trying." BINGO!
Commercial HINT: The above "insist your customer be there" tactic works great for homeowners. Good luck on getting a busy facility manager to hang out watching you scrub on a spot! So why not email your contact a "before and after" shot?  Or even better put it in the password-protected shared online folder you have set up for each of your property managers.
Restoration HINT: Above all else you want to hear about (and resolve) any concern the insured has BEFORE they call the adjuster. HERE is one great way to wrap up the loss.
NOTE: Next week I'll share the single most important way to "transform a complaining client into a Cheerleader." Don't miss it!
Steve