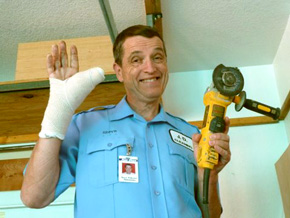 I calculate that 'saving three minutes' once cost me six weeks in a cast, a $8,000.00 insurance deductible and a pretty ticked off wife!  (If you're into numbers that is $2,666.00 per minute.)
After a frustrating day on the computer (Yep- hard as it may be to believe some times the words just don't flow!) I thought I'd do a little project in my home workshop.  Got all set up to cut a 2" steel post- step ladder, 4" grinder, safety glasses, hearing protectors, etc.  Gloves?  Naah, won't need 'em!
So I climbed up on the ladder, cut ALMOST through the post and then should have reset the ladder to finish the job.  But it would have taken several minutes to clear out the junk below so I just leaned out and BANG!  The grinder stuck in the cut, kicked back and fell to the floor.  It wasn't till I looked down that I saw my blood was spurting out 6" or so from my right hand every time my heart beat!  Whoa- this wasn't just a band aid cut!
Of course I was alone- where's my wallet, cell phone, car keys?  (Ever tried to dial a new smartphone one handed as you drive through the city to the ER?) And by the way, how come my right thumb doesn't work anymore?  3 hours later, I learned I'd sliced though my extensor tendons and was scheduled for surgery the next day.  And I didn't really care since I was wafting along on morphine and Percocet!
———–
The following day as Sioux drives me to my surgery I see my old competitor's van out working.  It made me reflect:  What would I have done if I was still on the truck and with -no notice- could not run a wand for at least six weeks?  What about you?  Do you have a personal 'Disaster Plan'?
Remember, it just takes one stupid and mindless decision.  (You've seen a fine example of this in my above anecdote!)  Or it can just be "a simple twist of fate"! (To channel Bob Dylan!)  Like a whacked out teenager that T-bones your cleaning van at 60 mph?  Or less dramatically you sprain (or break) your ankle tripping over your vacuum hoses!  It happens!
Seriously, right now- reflect on what would you (AND your family!) do if you miss the next three weeks of work OR get laid up in traction for the next three months OR get permanently… 'laid to rest'? It happens!
If you don't like your options then puhleeease GET MOVING!  Do it today!  For example …
Do you have a liquid "Emergency Fund"?  Most experts say you need six months of living expenses.  If that isn't attainable do you have at least 3 months?  One month?  Anything? Living hand-to-mouth is never a wise life style.  But a self-employed solo entrepreneur without savings is living in a very dangerous spot!
Have you developed a mutual network of "Strategic Partners"?  These can be reliable and honest competitors (is there such a thing?) that will handle your work while you are laid up and give you a percentage.  Or it can be some friends you have pre-trained to handle some of your jobs.  Anything to keep some cash flow coming in AND even more importantly preserving your client relationships while you are off work.
Take care of yourself.  Maintain a clean work area, slow down,  lift correctly, eat right and work out.  And above all else- move that ladder and handle your grinder with a cutting disk correctly!  Trust me on this one! And of course your best option IF you have "the fire in the belly" is to …
Build a Critical Mass Business! (CMB) That's right, create a business that will run with you… OR without you. HERE are five steps on HOW to build a CMB! Imagine the wonderful blessing of achieving "Personal Freedom"…
RESOURCE: Point #4 is exactly why cleaning and restoration contractors of ANY size need our our 3-hour, online SFS: Hiring the Very Best! LIVE seminar. To learn more and/or easily register online click HERE. procedures!
More ideas for the "Lone Wolf" owner-operator?  Just download my free Special Report.
Steve Toburen
PS:  Even if you have a "backup plan", are you sure your fallback people have your same appreciation for your customers and the relationship you have so carefully crafted over the years …?  !f not, loan them my "Winning on the Home Front" customer service training course!