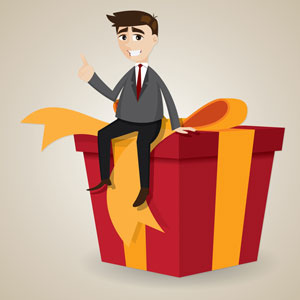 My guess is you are cleaning commercial jobs every week. At least I HOPE you are! (Regular, contract commercial accounts were a life-saver for me and especially in the winter!)
Now since you are trusted by your business accounts why not market your residential cleaning services to their employees? Who of course need carpet/ceramic tile/upholstery cleaning (even garage floor renovation) for their homes!
For example, once you have received permission (this is important!) to market to the company's employees simply…
Leave a bottle of your FREE Lifetime Carpet Spotter at every desk.
NOTE: This personalized carpet spotter bottle (imprinted with your name, phone number and website) with FREE Lifetime Replacement was the single best marketing concept I ever came up with! Here's why:
1. Long term marketing- Homeowners LOVE a free source of reliable (and free!) carpet spotter. So this part of your marketing plan is "sticky" because they never throw your bottle away.
2. Industry related- Every time the customer removes a spot using your Lifetime Spotter they think of you! (And see your contact info printed on the bottle!)
3. "Reciprocal Giving"- "Free carpet spotter for life just for me? Wow! Thank you!" Now you are benefiting from the principle of "Reciprocity!" 🙂 Watch my Reciprocal Giving Video HERE
So here's how to use your custom carpet spotter with your commercial accounts…
Place your custom labeled spotter on top of a simple half sheet (5 1/2″ x 8 1/2″) note that starts out, "Please enjoy your beautiful carpets that we cleaned last nights. Did you know we can do the same thing for your home's fine furnishings? And not just your carpets! We also clean…" And list out your additional services! (You will obviously want to do a great job cleaning the business carpets!)
You can  make the bottom third of your note into a coupon for 1/2 re-application of Scotchgard with their cleaning or the first month free of their Stay Beautiful residential maintenance program. Go wild here- test different offers to see what pulls best!
NOTE: Why not ask your commercial contact if they will also run your Employee Special Offer in their company newsletter?
Restoration HINT: Give out your FREE Lifetime Spotter at each insurance agency. Just ask if you can deliver a free bottle of your carpet spotter and a coupon to each agency employee. This is great (and much appreciated) public relations for your restoration business! And HERE is a great way to "partner up" with an adjuster!
Let me know how this Synergistic Employee Marketing works for you!
Steve