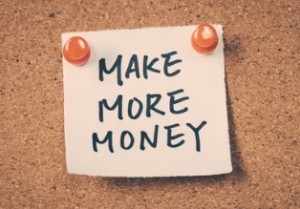 Winter can be a bummer! (Well, DUH, Steve!) Residential calls can be slow (super charge your winter business HERE!) and winter driving is treacherous. Yet those pesky bills keep coming in! So what can you do…
Do MORE work while you are already in your client's home!
Here's how to "clean up" from each and every job:
Pre-orient your client's on their Additional Service Options. (ASO's)
Do a good job (another big DUH here!) while also delivering Value Added Service. (HERE is how to train your techs in Value Added Service.)
After the cleaning (but BEFORE you roll up your hoses) mention to the homeowner that you can also clean their tiled floors, shower or tiled counter tops while you are there.
Then offer to do a sample area at no charge.  (A small entry way makes for a great sales demo AND delights your client!) Since the hoses are still in place it is quick and easy to do the demo and once the customer sees the contrast you will almost always have an ASO!
Do the four steps above ON EVERY JOB and never stop!
Offering tile and grout cleaning as an ASO is a no-brainer!  Fast, easy, low additional equipment cost, little competition and home owners LOVE taking care of everything on one visit! Plus if you get into the home through the T & G then you flip-flop the above process! (Maybe the best ASO is "re-applying" Scotchgard.)
Bonus HINT: This same 5-step demo technique works fantastic for the neat ASO of renovating your client's garage floors. Want even more ideas on Making More Money from each job? Just CLICK HERE!
Restoration TIP: Before leaving your delighted Insured why not offer to sign 'em up for your Stay Beautiful residential maintenance plan HERE? (Which can also include their tile and grout!)
Commercial TIP: Get new residential customers in winter while making your commercial accounts look like heroes with this "slow season" gift card idea HERE.
Steve