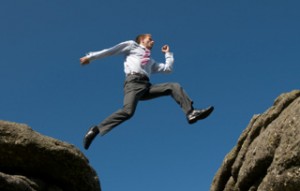 Hi Bill,
How can I turn my very part time carpet cleaning business into a full time job with good income?  I currently have a full-time high paying, highly stressful back-breaking job.  I want to jump ship but I have a wife, a mortgage and a kid and I can't see how to easily (or ethically!) get rid of any of the three!  So I am forced to keep the income flowing!
I currently own a Pro-Chem truck-mounted unit in a Chevy 3500 van and I've been doing 3-4 residential homes a week through Craigslist. So my question is- what would be the best setup to make this into a real business?
Quite Desperate Down in Daytona
Quite Desperate,
First, congratulations on wanting to improve your situation and create a better life for your family.  Hopefully you have had an opportunity to read some of the posts elsewhere on this site that address your frustrations. After you've been oriented by reading these experiences I'll respectfully tell you that you are focusing on the wrong thing- your "setup" which I assume is equipment.  To illustrate what are some of the "important things" to zoom in on let me tell you a true story …
In my Midwestern hometown I have a 50 year old businessman who has been in your situation for the last 2 years. I'll call him Matt!  Matt currently is working as a very successful pharmaceutical rep and making a very good living. However, he has the same stressful lifestyle you speak of. The one difference is Matt knows his industry is changing and at some point he likely will be pushed out.
So two years ago Matt bought a used truck mount and had a very nice wrap applied to his van to make it stand out. He hired a technician to run the truck while he took care of the marketing and sales jobs. This marketing role was "blended in" to his normal route duties in calling on doctors. As you can imagine this requires a good juggling act on Matt's part!
Matt also scheduled jobs on Saturdays and after 5 pm on many days. He understands that marketing and happy customers/cheerleaders is the key to driving the business to the point where he can step down from his regular outside sales job.
Matt's website is well-optimized and he gets many leads from that. He has used door hangers, gift cards, various coupon offers and retailer and real estate agents for leads. However, Matt has avoided programs like ValPak and Craigslist as both of these only bring in the bargain shoppers who are notoriously disloyal.
Matt has also started a small janitorial business which he has a few part time employees run. This janitorial diversification generates commercial carpet business as well as stimulating cash flow which my fellow SFS instructor, Chuck Violand, will tell you is the lifeblood of any business.
On the days you are working your full-time job you should park your van in a high visibility area such as a mall parking lot. On weekends park at the local soccer fields or baseball park. Buy one of those plastic card holders that affix to your van so people walking by can grab a card. Make it a rule to hand out 25 cards a day to individuals and give them your 10 second elevator speech.
I encourage you to spend some time educating yourself more using this site.  There really is a treasure trove of stuff.  I would recommend you subscribe to our blog feed for this site.  That way you can be sure to catch each piece of content that we share.
Remember that you don't have to build this business overnight. Try to establish yourself strongly with an emphasis on a business that will be long-term.
Good luck,
Bill Yeadon