Winning on the Home Front Technician Training (In a downloadable format so it can be used to train unlimited techs.)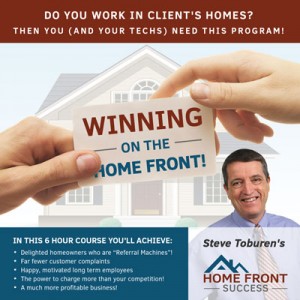 If you're reading this SFS website you already know that 80% of how your clients decide if your company did a "good job" or a "bad job" is based on their RELATIONSHIP with the person performing the service. Your challenge? The average tech is totally ignorant of this "80% Principle" and really could care less!
During twelve 30 to 40 minute audio sessions in "Winning on the Home Front" Steve Toburen will orient your employees on WHY the cleaning and restoration industry is so different from any other job they have worked in. They'll learn about Customer Cheerleaders, Baseline Expectations, Moments of Truth, giving the Illusion of Control and dozens of other principles and tips of what Steve calls "Service Engineering".
Even better, Steve will convince your techs on why they should buy in to this stuff! (As in, "What's in it for me as an employee?) With "Winning on the Home Front" you'll take the customer training load off your shoulders and transfer it to Steve!
Your "Winning on the Home Front" download will include PDF testing modules for each session along with complete instructions and answer sheets. Reprint these employee test pages as often as you wish. NOTE: "Winning on the Home Front" is IICRC approved for 1 CEC credit. (Event ID: 3187)
Click HERE for more info and/or to order!
Still not sure? Then check out what these cleaning and restoration contractors say about the impact "Winning on the Home Front" made in their companies:
"The training course Winning on the Home Front made me realize what direction I needed to take my business. If you ever want to take your company to new avenues of income this is the place to start."

David Alonso, KLNSTEC Innovations
El Cajon, CA
"I've been a fan of Steve Toburen's business-building philosophy since the first time I talked to many years ago. When I heard that Steve had produced Winning on the Home Front I knew it would be something special. And I wasn't disappointed."

John Downey, Editor and Publisher, The Journal of Cleaning, Restoration and Inspection
"I can't say thank you enough.  As we launch our residential services business we now have a solid base to build with!"

Tom King, Sani-Bright
Zionsville, IN
"This is a fantastic course. I think Winning on the Home Front is critical to the success of any residential services business. It was exactly what I was looking for. However, selfishly I would not recommend Steve's stuff to my competition!"

Len Lorenz, Oxy Scrub Carpet Cleaning
West Seneca, NY
"Steve is a 10+ presenter! The importance of these Winning on the Home Front concepts can't be measured."

Chad Hefke, Royal Treatment
Aurora, IL
"Steve Toburen is over the top! Listening to Winning on the Home Front felt like 'drinking from a fire hose' of helpful information! Steve's program is 'overwhelming' in the best possible way."

Ed Doss, Dallas Carpet Repair
Allen, TX
"After listening to Steve's concepts I plan on completely tearing down my old systems (not that I had any!) and will build new 'Service Engineered' systems for my company.  I am completely blown away by Winning on the Home Front!"

Doug Dimick, New Life Carpet and Furniture Cleaning
Spearfish, SD
"Winning on the Home Front is a 10+ on whatever scale you're on! However, I would not recommend this program to any of my competition! (Or even anyone that could possibly become a competitor!) This knowledge makes it too easy to build a successful business!"

Chet Pharies, Carpet Tech
Lubbock, TX
"Excellent information.  No other program compares to Winning on the Home Front.  These ideas made an immediate impact in our business."

Richard Chavez, Chavez Services
Topeka, KS
"The information presented in Winning on the Home Front is transformative.  Steve's principles are simple to understand and easy to implement.  When you add Service Engineering concepts in your business it is easy to define and then dramatically exceed your customer's expectations.  The concepts in Winning on the Home Front will give you a huge competitive advantage for your residential services business.  When service becomes a system then it ceases to be a problem!"

Phillip Rosebrook JR, Business Mentors/ ELC Training
Eugene, Oregon
"Winning on the Home Front gave me much more information that I expected. Steve really does teach you how to run a successful residential services company. This course is awesome and I would recommend it to EVERYONE."

Tim Doucette, Worry Free
Laconia, NH
"As a service business owner Winning on the Home Front transformed the way I run my company.  I use this course to train my techs on the psychology of working in client's  homes. Heck, we may be in places where their best friends aren't invited! The Service Systems in Winning will create tons of Positive Moments of Truth. (And cut your complaints by a huge percentage.) Steve's 'Service Engineering' procedures have created 1,000's of Customer Cheerleaders for our company.   Winning on the Home Front is the single most important tool you will ever purchase."

Clifford Grost, Multi-Maintenance
Wildwood, IL