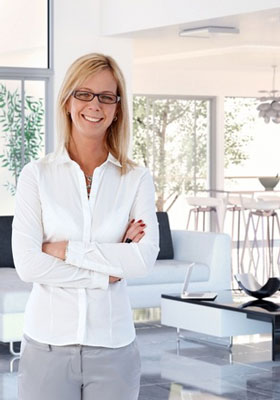 "Giving" is a wonderful thing. In fact, almost 2,000 years ago someone stated, "There is more happiness in giving than there is in receiving." And so it is.
But in business can "giving to others" pay off financially and not just emotionally? YES! In fact, I recently shared that "Reciprocal Giving" can totally win over a prospective client BEFORE you even work for them! So they are "pre-primed" to love your company and become a Cheerleader!
But can "giving" to your customers help you on the job? Absolutely! For example…
Always give your customer the "Illusion of Control"
Remember that your customers don't want to perform (or even control) the work your company is doing in their home or business. That is why they hired you! BUT all your clients want to FEEL like they are in control! Let's see how you can give them the "ILLUSION of Control" (IOC)…
Residential:  Your first-time homeowner customers are nervous (maybe even a little hostile!) about a strange tech "invading" their Inner Sanctum. So giving IOC will be a huge Moment of Truth! For example…
1. Leave your truck in the street and ask permission to pull into their driveway.
2. After introducing everyone on your crew to your client say, "Please give me a tour and as we go please show me any 'areas of special concern'." NOTE: Be sure to take "Immediate Action" on what the home owner shows you.
3. Always explain what you are bringing into their home. And then avoid the dreaded "Heightened Awareness Syndrome" when your techs show the home owner the results as they work.
Property managers: Always take a before and after photo of the work you are doing. (A dramatic "half way" done shot with lots of contrast is a nice touch!) Then post the photos and property name in the password-protected online "shared folder"  you have set up for your PM. (Drop Box is one option.) This gives your Property Manager "ammo" in case there is a dispute re: if your work really needed to be done.
NOTE: Adjusters love to communicate via a "shared folder" Drop Box too! And speaking of adjusters…
Restoration: Giving IOC is a delicate process on a property loss. Why? Because a traumatized and bewildered insured needs someone (you!) to take control. Yet they desperately want to FEEL like they are in control! Hmmm…
1. Use a clipboard to help you get needed information during those critical first minutes on the loss. NOTE: Download our free Water Damage Customer Interview Form HERE.
2. And "Magic Squares" truly are… well… MAGIC in restoration!
Do the stuff above and you'll make more money, have less complaints and create Cheerleaders who become unpaid salespeople for you! (And when their praise is put online the ROI for you is incredible!)
Steve