It isn't rocket science.  Make a little more money off each job and you will have a LOT more coin jingling in your pocket.  All of us on the SFS team reject high pressure selling or even worse the "bait and switch" tactics our industry is infamous for.  BUT there is nothing wrong with giving the home owner the OPTION of spending more money with you?  Right?  And it doesn't have to be a lot of money either.  For example …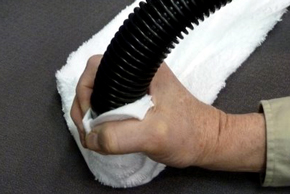 If your customer doesn't need (or can't afford) wet extraction of their upholstery why not offer them "power dry vacuuming" with your truck mount?   Demonstrate the soil removal power of this service by putting a clean white towel on the end of your vacuum hose.  A couple of vacuum strokes on almost any cushion (with the homeowner watching) will turn the towel black and give you an easy sale!
This is a fast and easy "up-sell" which provides a valuable and economical service for the customer plus you make good money too!
Once again, no pressure.  Just a) ask permission to "test" the upholstery, b) show the customer the results and c) quote the modest additional "while I am here" price.  If your customer turns the service down mention that she can do a passable job using the same technique with her home vacuum.  (You can even offer to check and change the bag in her vacuum for free!)
As always, your Primary Goal is to develop a "consultant type" relationship while displaying your sincere interest in the home owner's welfare. And if you sell some additional services along the way so much the better!
Steve
PS: Have you diversified your operation into the profitable (and at times technically challenging) world of upholstery cleaning? Right now Jon-Don has the latest breakthrough tool in upholstery cleaning on sale, the HydraMaster DriMaster 2 Upholstery Tool.
Every week we share a timely, practical tip like the above. So if you're not already signed up for these FREE weekly QuickTIPS, do so now.
This week's FOCUS: The Pros and Cons of 24/7 Services

The world of steady, profitable commercial work is really tempting me!

Can I charge a premium for after hours commercial cleaning work?

Sick of being "on-call" 24-7 for water damage losses?

Avoiding cleaning business burn out …

How to avoid getting hung out to dry on commercial cleaning without a key …

Longing for a good night's sleep …

Download: Avoiding the Road In-Between
Also new this week: