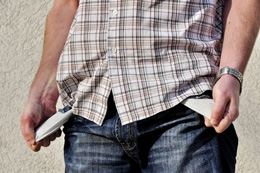 Hi Steve:
I really would like to take the SFS course but there isn't one near me in the near future. With travel prices at their highest in decades, it is not feasible for me to travel long distances. Is there an option in which I can learn some of the strategies without having to attend the seminar?
Thanks,
Just Asking in Atlanta
Hi Just Asking,
Thanks for writing in and for your interest in attending our Strategies for Success seminar.  You are right- SFS truly is five days that will change your life.  For example, just check out our reviews from hundreds of delighted SFS members.  (Believe it or not, Just, I didn't even need to "pick and choose" on the reviews.  With over 3,000 SFS attendees we have NEVER had an unhappy customer.  Really.)
I do feel your pain on the cost (investment? ) of traveling to SFS.  Plus you do need to dedicate five days which is a long time away from your business.   I see you live near Atlanta, GA.  Of course, we do have an Atlanta SFS scheduled every year. (See full current schedule here.) But let's say you feel you shouldn't wait that long.  (I wouldn't blame you.)
So now may I comment (rant?) on avoiding the "mass hysteria" of the news media?  For example, Just, I popped on to the travel site expedia.com and found some interesting news.  Do you realize that there are numerous round trip flights from Atlanta to Chicago for $210.00 total price?  We have more classes in our Roselle headquarters than out in our branch stores.
Remember, this low price at a time when every headline is blaring, "Highest Travel Prices in Decades", blah, blah, blah!  I don't know about you, Just, but 210 bucks seems like an incredible bargain to me for an experience that just may transform your business and your life.
Of course, to be fair you have hotel and some food too involved in attending SFS.  However, Jon-Don gets us super low hotel prices and much of the food is included in SFS (breakfast, lunch and snacks) plus Social Night on Wednesday when Papa Nick Paolella takes us all out for dinner and drinks.  However, let's say you have an extra 600-700 bucks (generous) invested in your expenses.  That is still much less than 1,000 bucks total to transform your business and walk away with over 1,200 pages of a complete, turn-key Business Infrastructure that would take you decades to come up with on your own!
True, we're still looking at your $1275.00 seminar fee which by the way everyone who pays it tells me at the end of the seminar was the best bargain out there.  But hey, FREE is even better … right???
News Flash!  One of the best kept secrets out there is that you can attend SFS completely free.  Just buy 5,000 bucks of anything Jon-Don sells over the 12 months before your seminar and you get a SFS seat (and all the other goodies above) completely free.  Or make $3,000.00 in purchases from us and we'll give you half-price admission.  Since ya gotta buy your juice and supplies from someone why not from Jon-Don and at the same time score a free seat at SFS???
But hey, maybe you just can't make the investment right now.  I understand.  This SFS.JonDon.com web site has a LOT of resources on it.  (Our web site is also a great source of "homework" for someone attending SFS to get up to speed and get maximum benefit from the course when they do attend.)  For example, check out this list of over 20 Special Reports:
Special Reports

All of these targeted Special Reports are FREE for the reading after a simple (and free) registration process.  Or if you want the Business Infrastructure (forms and paperwork) to make them happen in your company just go our Practical Paperwork section.
And if you want to make your phone ring with specific and proven tips from "Big Billy" Yeadon just go to Bill's "Books and Blogs" marketing blog.
Of course, I have to share my favorite part of the SFS web-site.  My very own "Steve's Bleeding Hearts Club" which is a "Dear Abby" type of advice column for struggling carpet cleaners.  (They do say that "misery loves company!")
OK, Just, I believe I've given you enough homework to keep you busy till you can make it to a SFS!  Hope to see you at one of these programs!  (One warning:  Whichever SFS you choose to attend register early. Since we only do eight SFS seminars per year we usually have a waiting list. See current schedule here.)
Steve
PS: We do recognize that there are lots of other business-building resources out there.  Instead of me blathering on let's see what our SFS site readers have found to help them transform their business.  Site members- you are UP!  Comment below please!