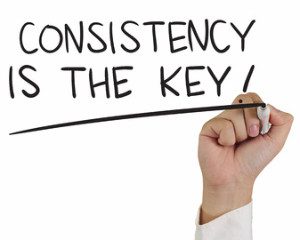 Let me be clear: Consistently delivering Value Added Service is the ONLY way to build a (highly profitable) Critical Mass Business. How to do this? By developing employee Service Systems! However…
You also need to "git 'er done" as in consistently (have I mentioned the word "consistently" before?) produce high quality work EFFICIENTLY!
So far I've shared ideas on efficiently avoiding "Desperation Re-ordering", efficiently restocking your vans and how to efficiently carry all your small tools up to the door on your first trip. (Do you see a pattern here?) So now…
Develop written procedures to guide your set-up routine on each job.
Why? Because each unneeded trip out to the truck costs you time, energy and LOST PROFITS! Sooo…
Residential: It is a negative Moment of Truth when a homeowner feels you're "rushing" to get done. However, clients appreciate A) efficiency combined with B) a genuine attitude of care and concern. Notice how this free Residential Set-Up List HERE combines both "A" and "B"!
Commercial: Especially on regular contract commercial you can fly setting up! (My goal for our commercial crews was to have the cleaning wand moving THREE MINUTES after arrival!) This free Commercial Set-Up List shows how to do this.
The ultimate in "commercial efficiency"? Regular "routes" run by highly paid PART TIME employees with your encap chemicals and Cimex Cyclone but using their own vehicle. For all the "how to" details download our free "Building Encapsulation Routes" manual HERE.
Restoration: A traumatized insured is "conflicted"! They want speed but also need a lot of hand-holding too! You'll see in this free Water Damage Set-Up List HERE how efficiency is combined with many positive Moments of Truth.
So comment below on the "efficiency tricks" you use to "speed up your set-up routine"! (Kinda has a ring to it!)
Steve