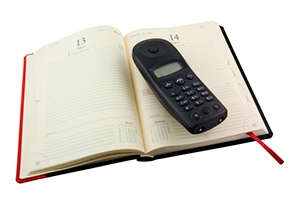 You want an 1) efficient and 2) profitable operation. Your customer wants a 3) solution to their problem and a 4) pleasant, no-hassle experience. Great news! It IS possible to meet all four of these goals. For example…
Early on the day before their scheduled cleaning date call your client to confirm their cleaning appointment.
Be sure to include the name of the technician "responsible to make your cleaning experience delightful." (Use these exact words.)
"Personalizing their experience" by giving the home owner the technician's name ahead of time is a great idea. This way they can check the name on your employee's Photo I.D. badge. (Personal security is a huge home owner "hot button" nowadays.)
BONUS TIP: Why not invite your client to check out the tech's "Profile Page" on your website? (CLICK HERE for how to set this up.) Even better, include a link to the employee's profile when you send out their confirmation and "Cleaning Check List" email!
What happens if you have to shift crews? Just a quick, friendly phone call to the client should do the trick. Stress a positive point about the new replacement tech to "sweeten the pot". (More experience, more certifications, flashier tattoos- you get the idea!)
I love stressing the word "experience" in the phone script above. At your Strategies for Success seminar you'll learn to view the cleaning experience as a "stage play". So go ahead- set your client's expectations ahead of time. Their no-hassle carpet cleaning experience is going to be so much more pleasant than just a "rug-sucking" to be endured.
NOTE: Why make your "confirmation call" EARLY on the day before the cleaning? So that if your job does bail out on you you'll have more time to plug the hole!
Steve Toburen
Every week we share a timely, practical tip like the above. So if you're not already signed up for these FREE weekly QuickTIPS, do so now.
Also new this week: