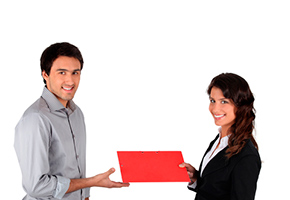 A key concept of SFS is to "Make it easier to do it right than to do it wrong." This doesn't mean your employees are stupid. Instead, by making job logistics run smoothly they'll be able to focus on "Making the Cheerleader"!
For example, you have multiple paperwork items for the tech to take into the job- work order, company brochure, a carpet care guide, "Extra Services Menu", ScotchGard brochure, Stay Beautiful flyer, a stamped customer comment card, refrigerator magnet and of course the tech's personal business card! Whew- that's a lot of stuff to remember and simply isn't going to happen unless you…
Make it easier for your employees. Insert the paperwork for each job into a separate Job Folder with two pockets. Clip the tech's business card and a frig magnet to the outside of the pockets.
We just used simple color-coded pocketed folders from any office supply store. Blue for water losses, black for residential cleanings, green for pre-inspections, orange for commercial, etc. We used removable Scotch tape to write the client's name on the outside so we could re-use our Job Folders again and again.
When making up the Job Folder include a copy of the customer's previous invoice. Now your tech can review the job, see if there are any special concerns/callbacks from last time and refresh his or her memory if they were on the job last time it was cleaned.
Including the previous invoice will also save on measuring time. In addition, many times the customer can't even remember what they had done on the last cleaning and a nice Moment of Truth is created when your tech is able to "consult" with the home owner.
WARNING:  Do NOT include any personal information in the pocketed folders you wouldn't want the client to see.  (Such as "This customer is a nut job!", etc, etc, etc.)  Don't ask me how I learned this one!
Steve Toburen
Every week we share a timely, practical tip like the above. So if you're not already signed up for these FREE weekly QuickTIPS, do so now.