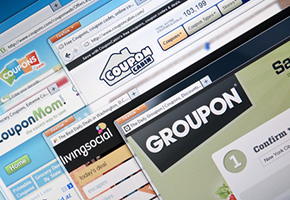 So now that many of you have tried Groupon over the last two years what are your plans for 2012?   Steve and I are privileged to communicate (either in person, through this SFS site or industry bulletin boards) with thousands of cleaners.  We're always amazed at the varied feedback we get on the Groupon strategy.
Frankly, business basics don't change.  The bottom line is simply you cannot try to be the cheapest "Deal" just like being the cheapest in a ValPak would lead you to bankruptcy. Running a deal that is different than everyone else is the answer.  (I think Steve's favorite word is "differentiation".)  Plus limiting the offer to your most profitable demographic is ideal.
Remember that you don't have to pay Groupon what they request.  Like almost everything else today in business- their fees are "negotiable".  (Heck, you get beat up by "price haggling" consumers.  Might as well return the favor!)  BUT before you pull the Groupon trigger reflect on these issues …
Groupon has at least 5 to 6 competitors in every major city.
In the August 30, 2010 issue of Forbes Magazine, Groupon was called the fastest growing company ever. Today? Less than a year later Fortune magazine detailed a study from Rice University that found 80% of Groupon users are first timers and only 20% become repeat customers.
Additionally 95% of all merchants who use Groupon never repeat the Deal.  Hmmm…
Groupon may be the fastest growing business ever AND the fastest to disappear!  In a recent blog business forecaster
Dan Pink predicted:  "A year from today, two out of these three entities will no longer exist: Groupon, Kodak, Newsweek."  Kodak is gone and who will be next?
So does all this really sound like a business model you want to be involved in?  Or would you be better served by getting back to timeless business marketing basics?