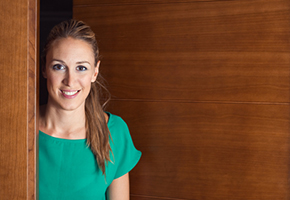 So you have arrived exactly on time, properly introduced yourself (and anyone else on your crew) to your new residential customer and you're even wearing your photo I.D. badge.
Great! So what happens now? All too often a confusing 'Front Door Standoff' occurs here! Think about it! You are waiting to be invited in by the client while your customer thinks you'll take the initiative and ask to come in. So you are both waiting on the other person!
I avoided this awkward pause by training my techs to simply look down at their clipboard and say…
"So I see today we are cleaning your…" (and list out the areas to be done)
This simple statement works like magic! Now your customer will automatically reply, "Oh… Won't you come in?" and automatically open the door for you!
NOTE: Always put on shoe covers or put down a door mat before stepping in. Or even better do both!
Commercial HINT: Never enter a personal office without an invitation. And never put anything on your contact's desk. That is their 'personal space'! Remember, you should involve your commercial prospect in your 'consultation' by interviewing them using our Commercial Carpet Analysis form. Then get them out from behind their desk (and away from their email!) by asking, "Can you show me…?
Restoration HINT: A traumatized Insured desperately needs the "Illusion of Control". Give your Insured this control by introducing all employees (and sub-contractors) on the job by their first and last name AND what their function will be on the loss. CLICK HERE for a step-by-step 'technician script' on a water loss.
Steve