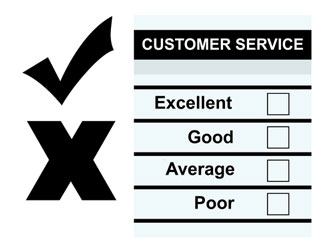 Last week we talked about getting maximum mileage out of the "Customer Comment Cards" you leave with the homeowner. But now why not also use these same cards as employee "Report Cards"? That's right- use your Comment Cards to both hold your employees accountable AND reward them for great performance.
Track your Customer Comment card results using a point system for each technician. Then each month publicly present the winning technician with a nice, crisp $100 dollar bill along with your sincere thanks!
Recognition and rewards are always great. And what better goal to recognize than the making of a Customer Cheerleader? (When our client took the time to write in a positive comment on the card my techs received 10 extra "bonus points"!)
Be sure to make this contest a fun "horse race" by keeping your employees updated on everyone's progress. (I loved to see my techs competing over who could make the most Cheerleaders!) We posted a chart on our company's bulletin board and referred to it daily. (This graph actually created a lot of good natured teasing among our employees which was great.) Remember that if you want anything to be important to the employees it must also be treated as important by you.
However, you must also use caution with any contest like this. Be sure that either all employees have basically the same number of jobs or that you base prizes upon the percentage of Cheerleaders built per total jobs done. Nothing is worse than a contest that some employees feel is unfair. Talk about opening Pandora's box!
Steve Toburen
PS: Last week we asked you if you gave out Comment Cards. We had a really good response with a "not-so-great result". We learned that 58% of our readers do not use Customer Comment Cards. OUCH! That's more than I expected but now I'm intrigued. I invite your input on what is holding you back. Please email me at stoburen@homefrontsuccess.com
And to those of you who are already using comment cards, congratulations! Maybe you could share with us why you find it so valuable.
Every week we share a timely, practical tip like the above. So if you're not already signed up for these FREE weekly QuickTIPS, do so now.
This week's FOCUS: Doing business with Insurance companies

How can I get more water damage restoration jobs?

Don't get caught in the middle between the adjuster and the property owner …

Get full mileage out of your Fire and Water Damage Restoration "progress photos"

Give your fire and water damage restoration customers a tasty way to remember you …

So what do you have against structural reconstruction in fire damage restoration?

Can you help me with a restoration "comment form"?

Search out your Restoration Customer's concerns

How to get plumber water damage referrals- FREE!

Download: 12 Secrets for a Smoother Running Restoration Business
Also new this week: