We're all 'creatures of habit'. So what 'habits' do you (and your techs) display to your customers? Should you leave this decision up to each tech? NO! Instead…
You must control the 'company routine' you (and your techs) follow since your customers LOVE consistency! How to do this? With a "Service System Script" that controls your tech's on-site positive Moments of Truth. But let's get real…
The problem with checklists and scripts is they get lost/ stashed away and just plain… IGNORED! ("Out of sight… out of mind" and all that!) So fight back and get-in-your-employee's-face(s) when you …
Post a tech's introductory steps on the dash of the vehicle!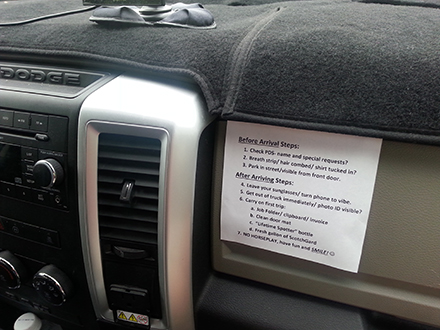 Here's some of my 'Before You Even Arrive/Knock' at the job steps:
1) Check the Production Day Sheet for customer's name and special requests.
2) Appearance: Pop a breath strip, comb your hair and tuck your shirt in.
3) Park in the street and visible from the front door.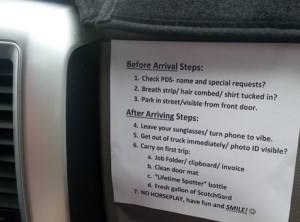 4) Leave your sunglasses in the truck/ turn cell phone to vibrate.
5) Get out of the truck immediately upon arrival/ make sure your photo ID badge is visible.
6) Carry with you your clipboard/ Job Folder/ invoice, door mat, "Lifetime FREE Spotter" bottle and a factory fresh ScotchGard gallon bottle.
7) No horseplay- paste a smile on your face because it is SHOW TIME!
Of course, your techs need more 'doorstep' meeting-the-client reminders! Let's paste them on your tech's clipboard!
Steve