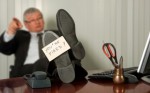 Many carpet cleaners have been burned with hiring employees and later retreated to becoming an owner-operator once again.  Or maybe you're just intimidated by the prospect of trusting someone else with your precious customers.  It all gets back to two key points: 1) Just what do you want out of your business and 2) hiring the right people.  You'll have to decide on #1 but we can help with "hiring right".  For example …
Hire techs from a service business background such as waiters, bartenders, hardware store clerks, etc. These workers are usually well groomed, have a higher level of customer service and good communication skills. When someone impresses you with their service hand them a card and suggest that they give you a call.
I can't stress enough the need to "hire right".  Just like with a good marriage, with the right person life is easy.  Hire the wrong people and business becomes agony.  As I tell every SFS seminar, "Life is too short to work with losers!  Plus what do you owe your customers?  Don't send losers into your client's homes."
In the current economy there is just  no excuse for not hiring great employees.  Some fantastic people are searching for a long term career right now.  Sure, for many candidates "cleaning" may not be a high status profession but hey- money talks!  And if a prospect has suffered through corporate layoffs the close-knit work environment you offer may be just what they are looking for.  (Explain to each new employee that they can "create their own job security" by making themselves indispensable!)
The nice thing is that customer contact jobs in the hospitality and retail sector are usually low paying.  So you can offer more money to your new hire and still make a profit. Remember that your workers should view it as both a privilege and an opportunity to work for you. As L.L. Bean always said, "I always felt if we paid 20% better than anyone else we would have employees 40% better that any of our competitors." So are you paying your people at least 20% more than they could make doing comparable work for anyone else in your local area?
Steve
P.S:  Please tell is where and how you are finding your best employees …
Note: Every week we share a timely, practical tip like the above. So if you're not already signed up for these weekly QuickTIPS, do so now.
This week's FOCUS: See yourself with the "Customer's Eyeglasses"


Should I wear a bow tie when cleaning?

A phone not answered is money lost!

Record your telephone staff- Painful but very productive

Switch places (literally) with the Customer

Personal hygiene wins Cheerleaders

What can carpet cleaners learn from Disney?

A high class technique to create restoration Cheerleaders

"Introduce" your technicians BEFORE they ring the door bell

Download: Recession Proofing Your Restoration Business

Download: A "Beauty Makeover" check list for your cleaning business
Also new this week: